Creativity Makes

Marketing, the World, Strategy, Everything, YOU, Your Business

Irresistible
While it's hard to get noticed, it's even harder to get results. We offer creative solutions that are more than slick graphics and fluffy copy. We are a full-service marketing agency that fully understands what it takes to get attention — and action.
Creative Services we offer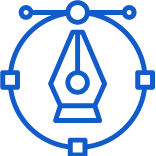 Graphic Design
Look sharp to cut through
Great graphic design grabs you. Wait until our designers get ahold of your message. You'll look sharp in digital and in print. From brochures and business cards to banner graphics and branded websites, we're experts in the art of selling your brand with style. Ask us about our photo editing skills too.
Video Production
Move your audience with media
Motion attracts. Nothing moves or delivers better today than video. It has the power to captivate and engage your audience. Video can be your ticket to stronger leads and more sales. From product promotions to pre-roll ads, and from video training modules to motion graphics, we can produce video narratives that will get your brand moving.
Words are powerful, but only when they are the right words in the right order. Crafting a marketing message that is in harmony with your brand, and aimed at the heart of your prospects, takes more than a dictionary. It takes a good ear. Want to be heard? Your words better sing. Graphics attract attention, but it's the text that sells and compels. Your messaging positions you as an industry authority, increases your web traffic, drives social media engagement and generates sales. Sounds good on paper. But will people read it? Let's make sure.
Product & Service Development
Finalize your concepts and materialize your ideas
If you can dream it, we can help you do it. Maybe you have an idea for a new product or want to launch a new product line. We've been there. Many times. We've helped hundreds of clients file multiple patents and move millions of dollars in products and services through multiple channels of distribution. We know the creativity and development processes extremely well and can help you produce, package, price, and create demand for your product. We understand the unique challenges of taking your business concepts from idea to reality. Let's have a confidential conversation to help you identify and take the next steps.
I can't tell you what a positive difference you have made. I absolutely love what you have done with my website—your creative team is just that, creative plus much, much more.